A Big Green Egg Breakfast
At the end of April, my fiancé and I tied the knot of marriage (awwww). One of the wedding gifts that I received was a Large Big Green Egg (LBGE or BGE). Now, I'm still a huge fan of the Pit Barrel Cooker, but more than anything I love learning new toys tools when it comes to BBQ and technology. What better way to learn than cooking breakfast?
But first, some accessories
The BGE that I received seemed to have been the BGE cooker package. The package comes with the BGE itself (obviously), a "nest" (the stand), an ash scraping tool, a grid (rack) gripping tool, a package of firestarters, and a bag of lump charcoal. I don't know if it's supposed to come with the platesetter, the removable and reversible large ceramic plate shown in the middle of the BGE, but mine did not. This meant I'd be unable to cook my favorite thing, unreasonably large pieces of smoked meat!
To rectify this unpalatable situation, I immediately directed my browser to The Ceramic Grill Store and ordered their Large Adjustable Rig Ribs and Brisket (R&B) Combo in the rib video configuration. In addition to letting me do indirect cooks, this contraption held the promise that I could increase my grid space and do higher capacity cooks. Who wouldn't want that?
Down to business
I woke up early one beautiful Saturday morning and wanted to treat Liz to something nice while at the same time getting in some practice on the BGE and enjoying the weather. I decided I'd make a nice breakfast of sausage, bacon, gluten free pancakes, and scrambled eggs.
I began by setting the BGE for 350F indirect. I then took one of the oval racks from the adjustable inside and assembled the bacon and sausage on it. Once assembled, I placed it on the BGE and mixed the gluten free pancake batter (nothing fancy, here, just some Bob's Redmill that needed to be used up). I used a Lodge cast iron skillet to cook the pancakes on top of the factory grid which, in turn, was on top of the adjustable rig. When the pancakes were done, I then cooked the scrambled eggs in the same pan. I tried to cook some without the pan, but I had trouble with the eggs running down through the grid.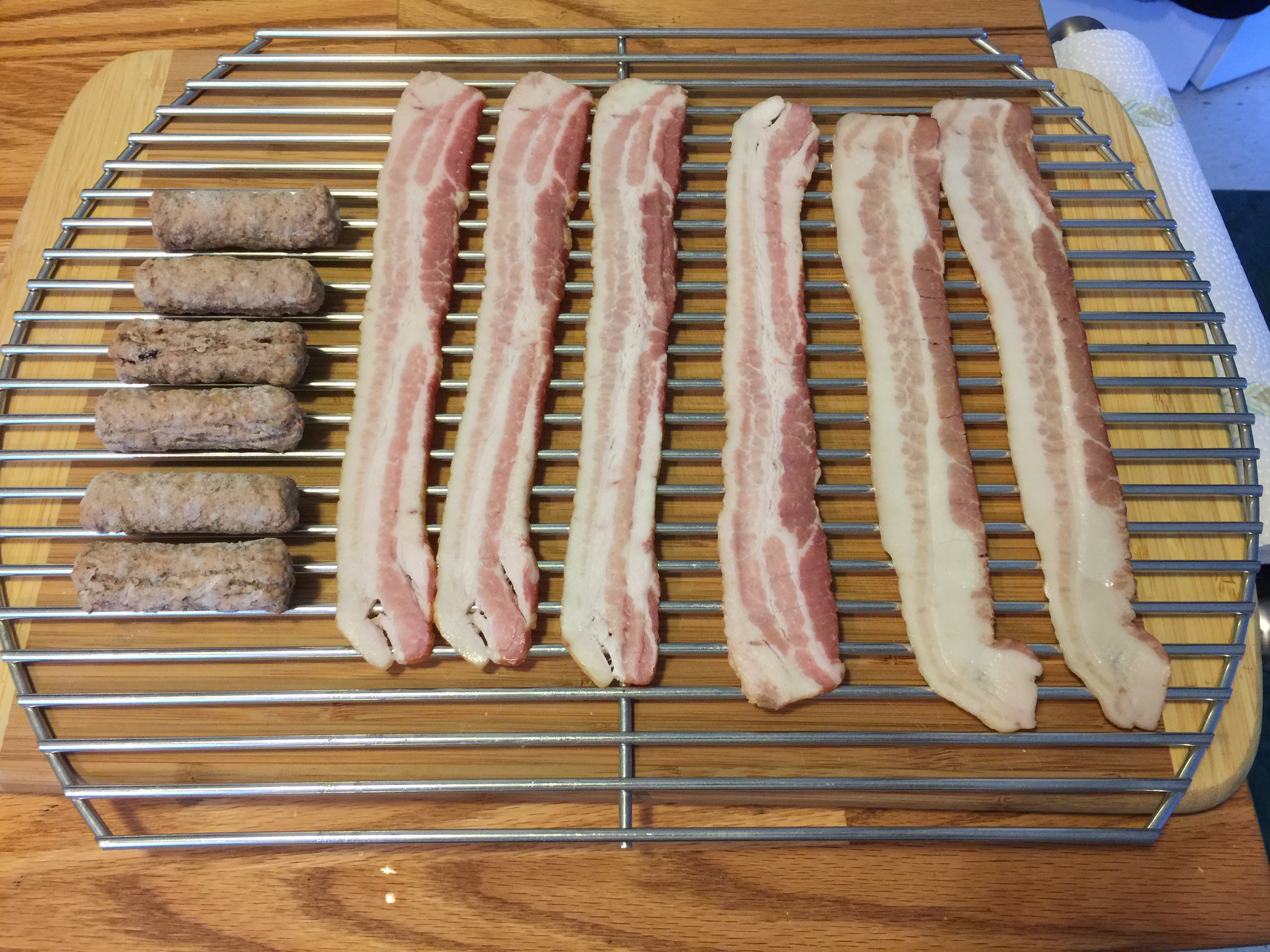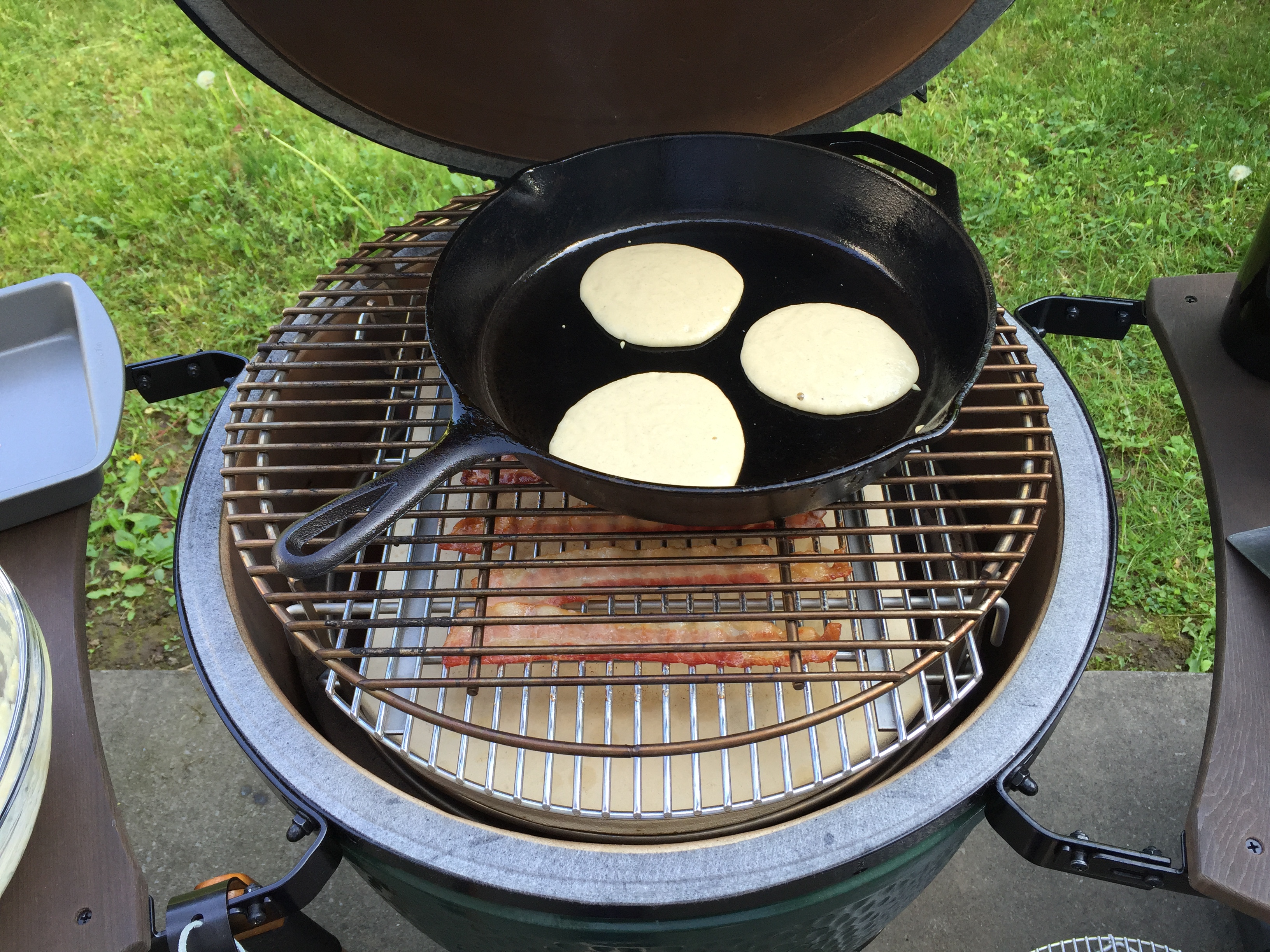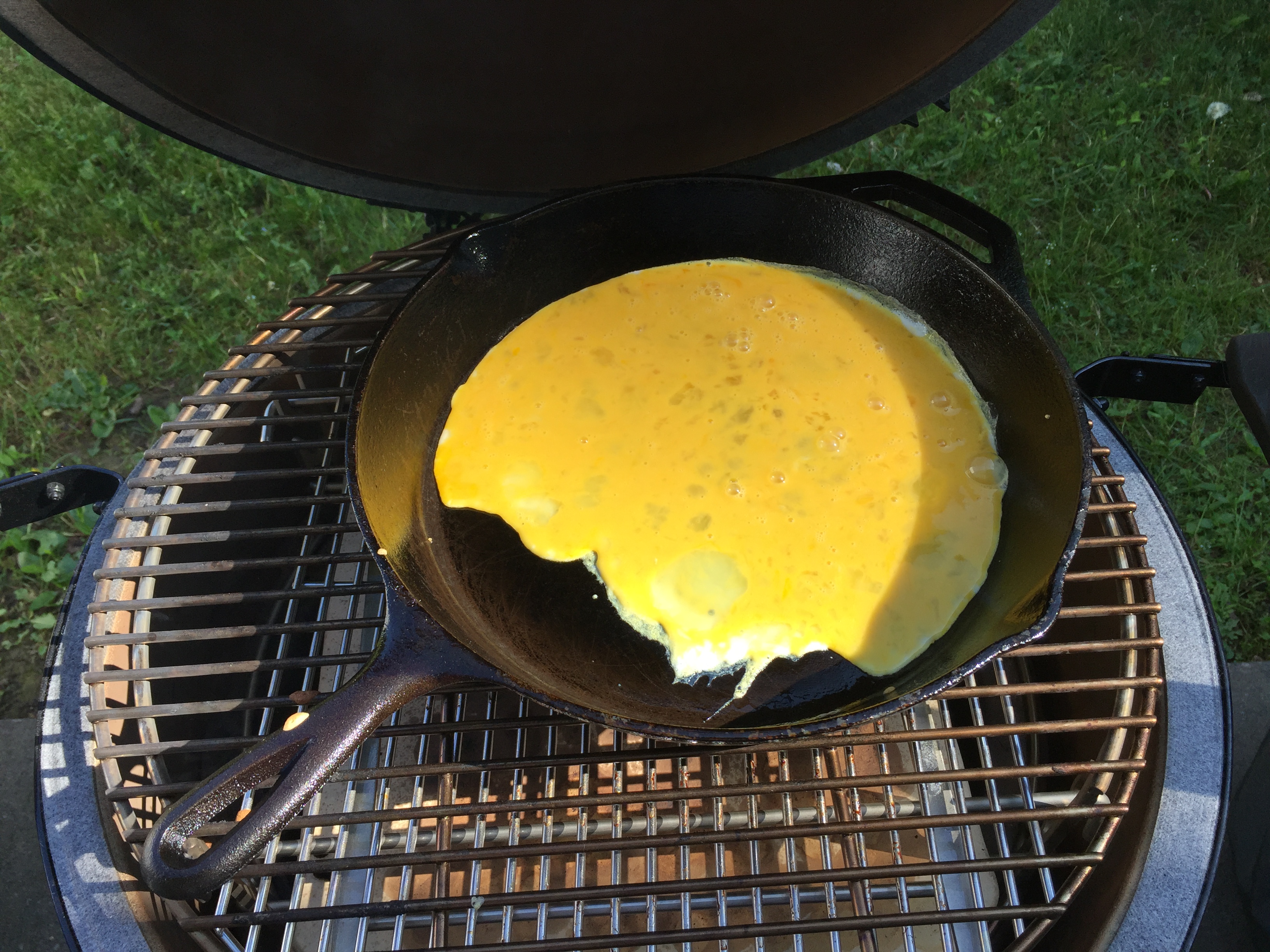 ---
Conclusion
The LBGE did an excellent job on this breakfast cook, especially for an egger that is still pretty 'green' himself. I was very pleased with how fluffy the pancakes got. I don't remember them fluffing up as much as they did when made stovetop previously. The bacon and sausage each crisped up nicely, and the eggs cooked no problem in the skillet. Liz reported that everything had a pleasant slightly smokey taste, as though breakfast had been cooked over a campfire. While I wouldn't necessarily choose to cook breakfast outside everyday, I found it a wonderful way to usher in a gorgeous Saturday morning and would certainly do it again.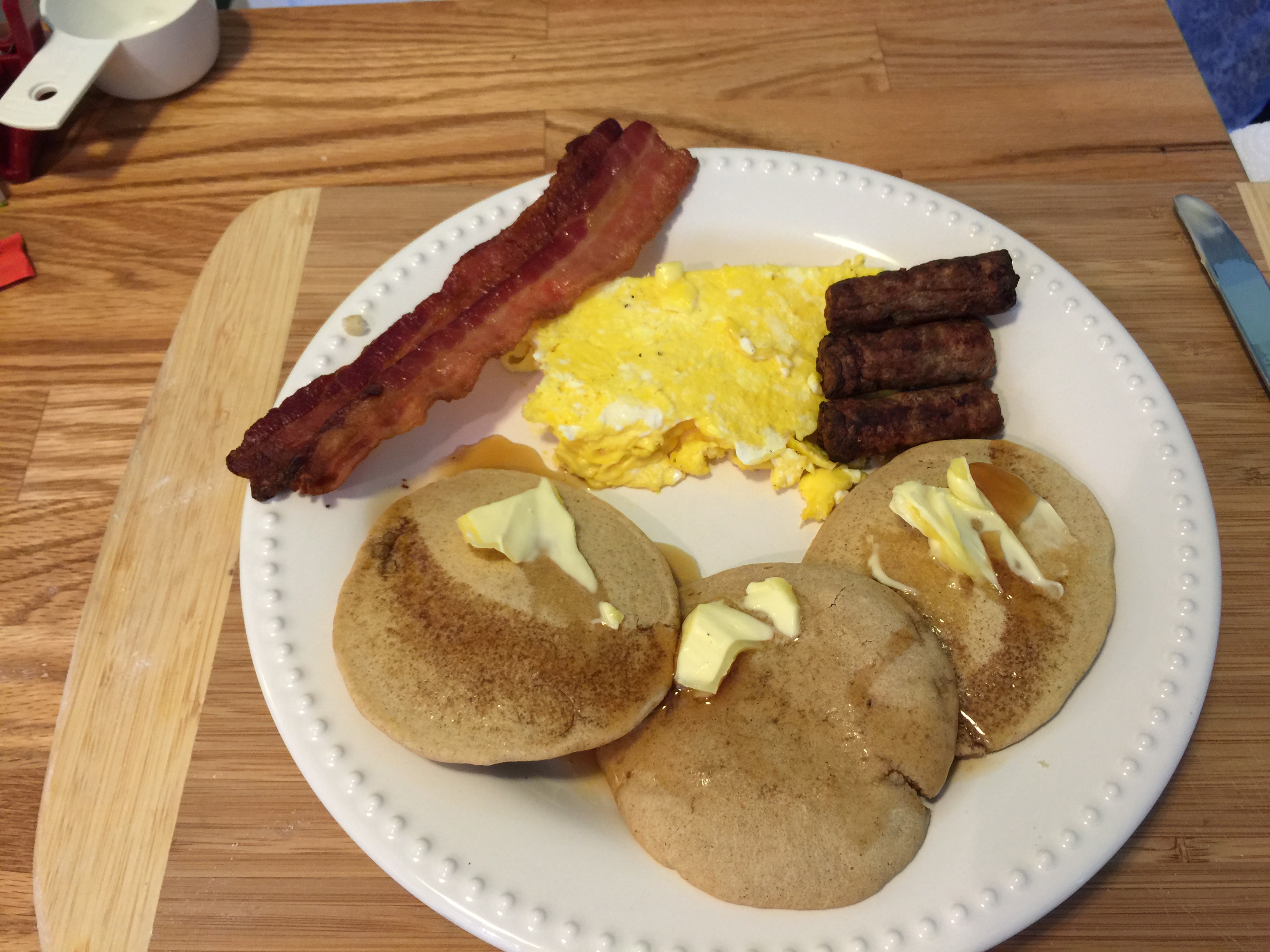 If you liked this post, you can share it with your followers or follow me on Twitter!